Sporting Achievements
March 22
7 Children from year 5 attended the Dodgeball tournament at Robbert Sutton School. The children took part in 5 matches. Some excellent skills were shown by our team.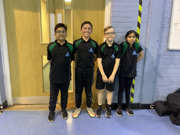 The boys football team took part in their first matches since February 2020. They drew their first game against St Modwens A 0-0 with some excellent defending and saves from goalkeeper Archie.
The second and third matches saw them win both 2-0 against St Modwens B and Horninglow - meaning our team got through to the final.
Unfortunately, we lost 1-0 but came away with our heads held high and stood ready to do the three cheers at the end.
February 22
8 Girls from year 5 and 6 went to Burton Albion to participate in a Girls football tournament. The girls scored some great goals - but results didn't go our way.
Well done to all the girls for taking part!